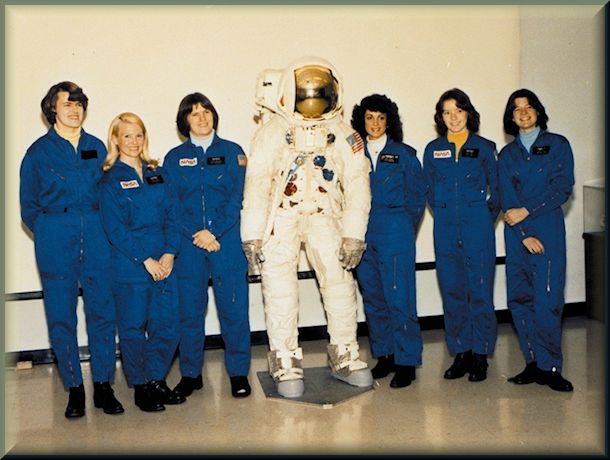 During the 135 missions of the Space Shuttle Program's 30-year run we saw the integration of women crew members. As I started gathering up photos and information from NASA, I realized that geek history not only needed a section on space exploration, but a tribute to these female pioneers of space.

The women selected by NASA as the first female astronaut candidates in January 1978 are a great example that being a geek is not strictly a man's world. The six women chosen enrolled in a training program that they completed in August 1979. Shown in the NASA photo from left to right are Shannon W. Lucid, Margaret Rhea Seddon, Kathryn D. Sullivan, Judith A. Resnik, Anna L. Fisher, and Sally K. Ride. Sally Ride was the first American woman in space. Sadly, one member of the class of first female astronaut candidates, Dr. Judith Resnik was killed during the launch of Challenger in 1986.

Below are the brief biographies of first female astronauts.
---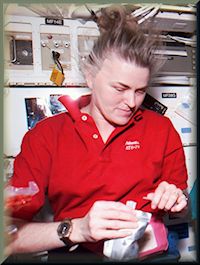 Shannon W. Lucid was born on January 14, 1943 in Shanghai, China but considers Bethany, Oklahoma to be her hometown. She spent many years at the University of Oklahoma, receiving a Bachelor in chemistry in 1963, a Master in biochemistry in 1970, and a Doctorate in biochemistry in 1973.

Shannon Lucid is qualified for assignment as a mission specialist on Space Shuttle flight crews. Some of her technical assignments have included the Shuttle Avionics Integration Laboratory (SAIL); the Flight Software Laboratory, in Downey, California, working with the rendezvous and proximity operations group; Astronaut Office interface at Kennedy Space Center, Florida, participating in payload testing, Shuttle testing and launch countdowns; spacecraft communicator (CAPCOM) in the Johnson Space Center (JSC) Mission Control Center during numerous Space Shuttle missions; Chief of Mission Support and Chief of Astronaut Appearances.

Dr. Lucid was the first woman to hold an international record for the most flight hours in orbit by any non-Russian, and, until June 2007, she also held the record for the most flight hours in orbit by any woman in the world. From February 2002 until September 2003, Dr. Lucid served as NASA's Chief Scientist stationed at NASA Headquarters, Washington D.C., with responsibility for developing and communicating the agency's science and research objectives to the outside world. She returned to JSC in Fall 2003 and resumed technical assignments in the Astronaut Office. She served as a CAPCOM in the Mission Control Center for numerous Space Shuttle and International Space Station (ISS) crews, representing the Flight Crew Office and providing a friendly voice for dozens of friends and colleagues in space. Dr. Lucid retired from NASA in January 2012.
---

Margaret Rhea Seddon was born November 8, 1947, in Murfreesboro, Tennessee, received a Doctorate of Medicine in 1973 from the University of Tennessee. She flew on space missions STS-51 Discovery, STS-40 Columbia, and STS-58 Columbia for a total of over 722 hours in space. Dr. Seddon retired from NASA in November 1997, taking on a position as the Assistant Chief Medical Officer of the Vanderbilt Medical Group in Nashville, Tennessee.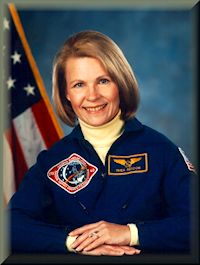 Dr. Seddon's work at NASA has been in a variety of areas, including Orbiter and payload software, Shuttle Avionics Integration Laboratory, Flight Data File, Shuttle medical kit and checklist, launch and landing rescue helicopter physician, support crew member for STS-6, crew equipment, membership on NASA's Aerospace Medical Advisory Committee, Technical Assistant to the Director of Flight Crew Operations, and crew communicator (CAPCOM) in the Mission Control Center. She was Assistant to the Director of Flight Crew Operations for Shuttle/Mir Payloads. A three-flight veteran with over 722 hours in space, Dr. Seddon was a mission specialist on STS-51D (1985) and STS-40 (1991), and was the payload commander on STS-58 (1993).

In September 1996, she was detailed by NASA to Vanderbilt University Medical School in Nashville, Tennessee. She assisted in the preparation of cardiovascular experiments which flew aboard Space Shuttle Columbia on the Neurolab Spacelab flight in April 1998. Dr. Seddon retired from NASA in November 1997.
---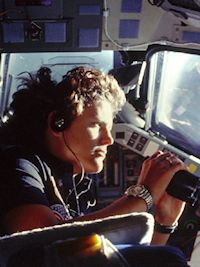 Kathryn Sullivan was born October 3, 1951 in Patterson, New Jersey but considers Woodland Hills, California to be her hometown. She received a Bachelor in Earth Sciences from the University of California, Santa Cruz in 1973 and a Doctorate in Geology from Dalhousie University in Halifax, Nova Scotia in 1978.

Dr. Sullivan's Shuttle support assignments since then include: software development; launch and landing lead chase photographer; Orbiter and cargo test, checkout and launch support at Kennedy Space Center, Florida; extravehicular activity (EVA) and spacesuit support crew for several flights; and capsule communicator (CAPCOM) in Mission Control for numerous Shuttle missions. A veteran of three space flights, Dr. Sullivan was a mission specialist on STS-41G (1984), STS-31 (1990) and STS-45 (1992).

Dr. Sullivan's NASA research interests were focused on remote sensing. She qualified as a systems engineer operator in NASA's WB-57F high-altitude research aircraft in 1978 and participated in several remote sensing projects in Alaska. She was a co-investigator on the Shuttle Imaging Radar-B (SIR-B) experiment, which she flew on Mission STS-41G.

Dr. Sullivan left NASA in August 1992 to assume the position of Chief Scientist of the National Oceanic and Atmospheric Administration (NOAA). She later went on to serve as President and CEO of the Center of Science and Industry in Columbus, Ohio.
---
Judith Resnik was born April 5, 1949 in Akron, Ohio. Upon graduating from Carnegie-Mellon University in 1970, she was employed by RCA located in Moorestown, New Jersey; and in 1971, she transferred to RCA in Springfield, Virginia. Her projects while with RCA as a design engineer included circuit design and development of custom integrated circuits..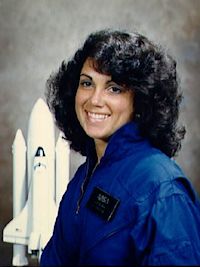 Dr. Resnik was a biomedical engineer in the Laboratory of Neurophysiology at the National Institutes of Health in Bethesda, Maryland, from 1974 to 1977, where she performed biological research experiments concerning the physiology of visual systems. Immediately preceding her selection by NASA in 1978, she was a senior systems engineer in product development with Xerox Corporation at El Segundo, California.

Dr. Resnik first flew as a mission specialist on STS 41-D which was the maiden flight of the orbiter Discovery on August 30, 1984. The crew earned the name "Icebusters" in successfully removing hazardous ice particles from the orbiter using the Remote Manipulator System. STS 41-D completed 96 orbits of the earth before landing at Edwards Air Force Base, California, on September 5, 1984. With the completion of this flight she logged 144 hours and 57 minutes in space.

Dr. Resnik was a mission specialist on STS 51-L which was launched from the Kennedy Space Center, Florida, at 11:38:00 EST on January 28, 1986. The STS 51-L crew was killed when Challenger exploded after launch.
 
---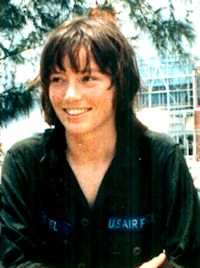 Anna Fisher was born August 24, 1949, in New York City, New York, but considers San Pedro, California, to be her hometown. After graduating from UCLA in 1971, Fisher spent a year in graduate school, working in the field of x-ray crystallographic studies of metallocarbonanes. She began medical school at UCLA in 1972 and, following graduation in 1976, commenced a one year internship at Harbor General Hospital in Torrance, California. After completing that internship, she specialized in emergency medicine and worked in several hospitals in the Los Angeles area.

Fisher's early NASA assignments (pre-STS-1 through STS-4) included crew representative to support development and testing of various Shuttle systems. From STS-5 through STS-7, Fisher was assigned as a crew representative to support vehicle integrated testing and payload testing at NASA's Kennedy Space Center, Florida.

From 1989 through 1995, Fisher was on a leave of absence from the Astronaut Office to raise her family.. From 1996 through 2002, during the early phase of building the International Space Station (ISS), Fisher was the chief of the Space Station branch. In that capacity, she coordinated inputs to the operations of the space station for the Astronaut Office, working closely with all the international partners and supervising assigned astronauts and engineers. From January 2011 through August 2013, Fisher served as an ISS Capsule Communicator (CAPCOM) working in the Mission Control Center and was also the lead CAPCOM for Expedition 33. Currently, Fisher is a management astronaut, working on display development for the Orion Multi-Purpose Crew Vehicle (MPCV) and supports European payloads for the ISS Integration branch
---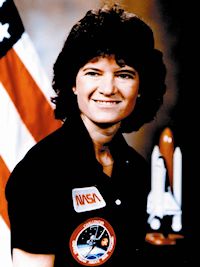 Sally Ride was born on May 26, 1951 in Los Angeles, California, she received a Bachelor in Physics and English in 1973 from Stanford University and, later, a Master in Physics in 1975 and a Doctorate in Physics in 1978, also from Stanford. NASA selected Dr. Ride as an astronaut candidate in January 1978.

She began her astronaut career as a mission specialist on STS-7, which launched from Kennedy Space Center, Florida on June 18, 1983. The mission spent 147 hours in space before landing on a lakebed runway at Edwards Air Force Base, California on June 24, 1983. Dr. Ride also served as a mission specialist on STS-41-G, which launched from Kennedy Space Center, Florida on October 5, 1984 and landed 197 hours later at Kennedy Space Center, Florida on October 13, 1984. In June 1985, NASA assigned Dr. Ride to serve as mission specialist on STS-61-M.

She discontinued mission training in January 1986 to serve as a member of the Presidential Commission on the Space Shuttle Challenger accident, also known as the Rogers Commission. Upon completing the investigation she returned to NASA Headquarters as Special Assistant to the Administrator for Long Range and Strategic Planning.

Dr. Ride has written a children's book, To Space and Back, describing her experiences in space. Her latest books include Voyager: An Adventure to the Edge of the Solar System and The Third Planet: Exploring the Earth from Space. Dr. Ride is currently a physics professor and Director of the California Space Institute at the University of California, San Diego..

 
---
References and resources:

During a search of NASA photos I found many showing women working in various roles for many years. As this site grows we hope to highlight the contributions of women in the world of technology and science, to educate honor the great female geeks of our society.

The biographical information on the astronauts was found on various NASA websites. The photos are from the Internet Archive (Archive.org) as well as NASA websites. The information is believed to be public domain and has been edited and modified for use on Geek History. The flight numbers in the astronauts biographies refer to the shuttle missions. STS stands for Space Transportation System, and the numbers represent the flight number stating with STS-1, launched on April 12, 1981.

The goal of Geek History is to increase awareness, educate, and entertain. We are just trying to get you to think about the many amazing people that have contributed to the world of technology. Our goal in presenting this information on aviation and aerospace history is by no means meant to be any type of authoritative source on the topic. I am not a rocket scientist, nor is space craft or space exploration in my area of expertise, I hope by presenting this information you take the time to learn more.


Please refer to the links listed here to find the original photos for your own personal use and learn more on the topics covered.

Women in Space http://history.nasa.gov/printFriendly/women.html

Astronaut Bios: http://www.jsc.nasa.gov/Bios/

Space Shuttle History: http://www.nasa.gov/externalflash/the_shuttle/

NASA library of images: http://grin.hq.nasa.gov/index.html

NASA Space Shuttle Launch Archive http://science.ksc.nasa.gov/shuttle/missions/missions.html
Save